Microsoft co-founder Bill Gates says he complained to technology companies about COVID-19 conspiracy theories about him being spread online.
Key points:
Conspiracy theories circulated on social media by anti-vaccination campaigners included that Mr Gates was using COVID-19 vaccines to control people, some even claiming he wanted to insert microchips in people.
"Maybe I should complain even more, but I certainly point out false stories when they're published, or even people who highlight sort of almost silly misinformation," Mr Gates told 7.30.
"There's a constant dialogue of anybody who gets, you know, this crazy stuff published, going to the digital platforms and saying, 'Hey, look at this, look at that.'"
Early in the pandemic, when governments worldwide were floundering, the Bill and Melinda Gates Foundation helped mobilise the global response, including donating $US751 million ($1.05 billion) to the World Health Organization, more than any country except Germany.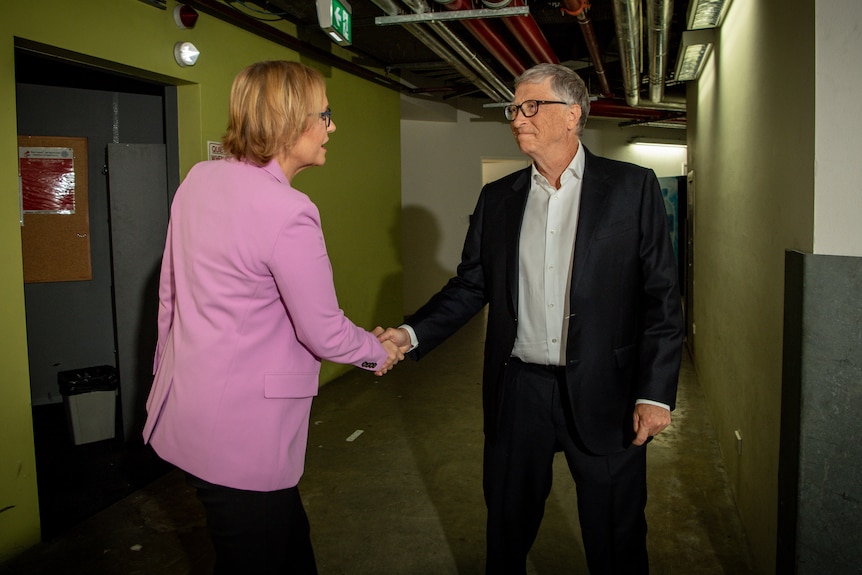 The billionaire philanthropist said traditional news sources amplified the spread of conspiracy theories about his involvement in global vaccine campaigns.
"I think it's more of the mainstream news media that would constantly bring it up, even though it's laughable. That did more to spread the rumours," he said.
Despite the spread of misinformation online, Mr Gates said he was optimistic about the future of social media.
"We have a generation coming that will hopefully be creative about social media and how we make it more of a force for good," he said.
As for Twitter's new owner, Elon Musk, Mr Gates said while Mr Musk had "done a lot of great work, you know, I'm not sure that's the best use of his time".
'Plenty of time to adapt to AI'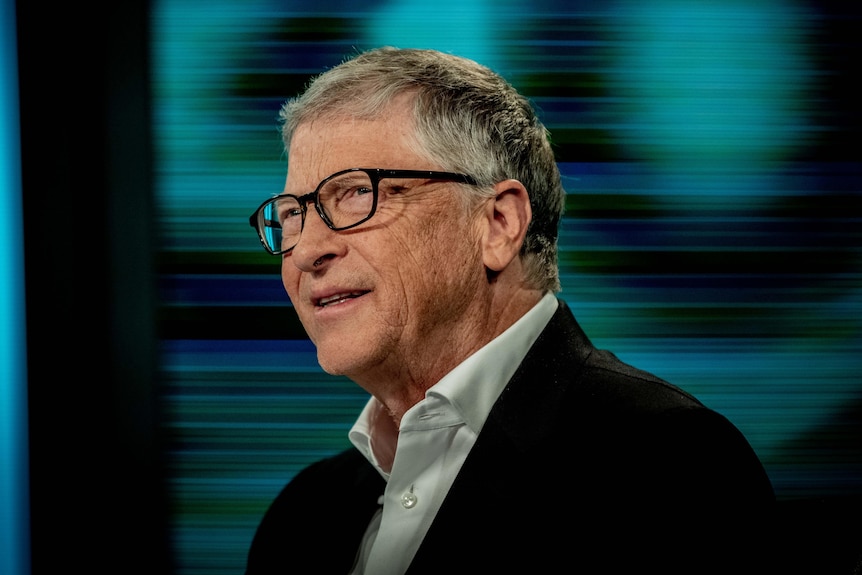 In the past, Mr Gates has said he is both excited and concerned about the rise of artificial intelligence.
Microsoft has invested billions of dollars in the company OpenAI, the maker of ChatGPT, an AI-powered chatbot that can generate natural-sounding text.
ChatGPT has been making headlines recently over concerns students could use it to cheat in exams.
Mr Gates told 7.30 "innovation is always going to surprise us". 
"AI is going to help us with teaching kids, it's going to help us with access to healthcare workers, making health care more efficient," he said.
While AI would "affect not just blue-collar jobs but also white-collar jobs", he said: "There'll be plenty of time to adapt, as this increased efficiency gives us more economic options."
There would be unpredictable things that cropped up as we had new technologies, "things like misinformation", he said.
"The downsides of a modern technology, we have been able to manage those to the benefit of mankind," Mr Gates said.
"People are literate, people live three times as long as they did before. And this is the next wave of human innovation."
World must reduce emissions 'as fast as we can'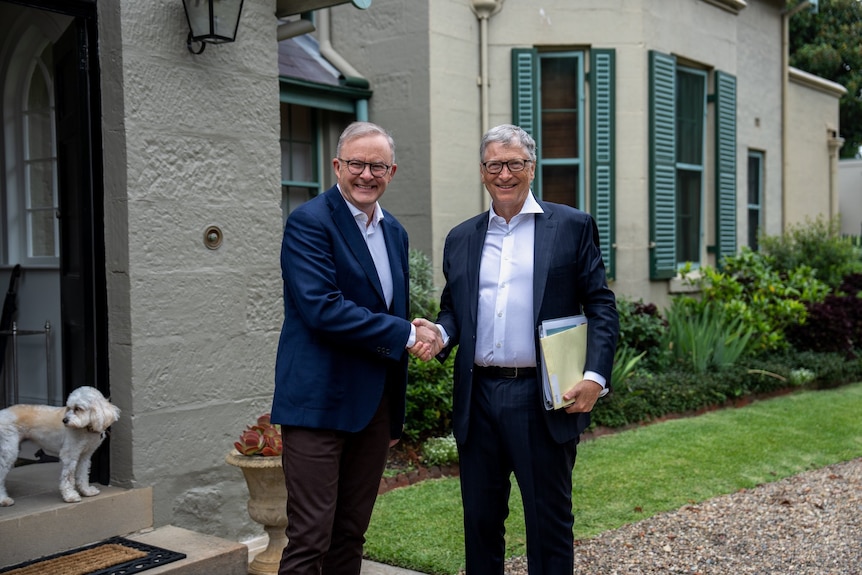 During his visit to Australia Mr Gates met with Prime Minister Anthony Albanese to discuss climate change, among other topics.
Mr Gates told 7.30 "Australia has a huge role to play" in combating climate change.
"[Australia] is very lucky in terms of it'll have some of the cheapest renewable energy in the world," he said.
"There's a lot of minerals here in Australia, including lithium, cobalt [and] many others that will be in very high demand.
"Australia will be able to export green hydrogen and other clean products … it's certainly a country where the opportunity in a green economy is greater than it has been in the past."
As well as his philanthropy through the foundation, Mr Gates invests in breakthrough green technology. One of those investments is in next-generation nuclear power reactors called natrium reactors, which are aimed to make nuclear power safer and cheaper.
Asked if he thinks the Australian government should change its policy on nuclear energy, bringing it into line with the Coalition — opposition leader Peter Dutton has said nuclear power should be part of Australia's energy mix — Mr Gates said: "Australia doesn't need to get engaged on this." 
"Australia gets to watch over the next 10 to 15 years and see if this next generation, in terms of its cost, safety, waste disposal, meets these very high goals," he said.
Earlier this month Mr Gates said the prospects of reaching agreed global warming targets were increasingly remote. 
He told 7.30 that emissions needed to be reduced to zero "as fast as we can". 
"In the meantime, while we do those reductions, which is called climate mitigation, we also have to do climate adaptation," he said.
"Sadly, the poor countries in the equatorial zones are the most affected. Most of the people there are farmers with small pieces of land who won't be able to have the crop output they have today. 
"So we'll have to adapt while we do our very, very best to bring emissions to zero as fast as we can."
'I shouldn't have had dinners' with Epstein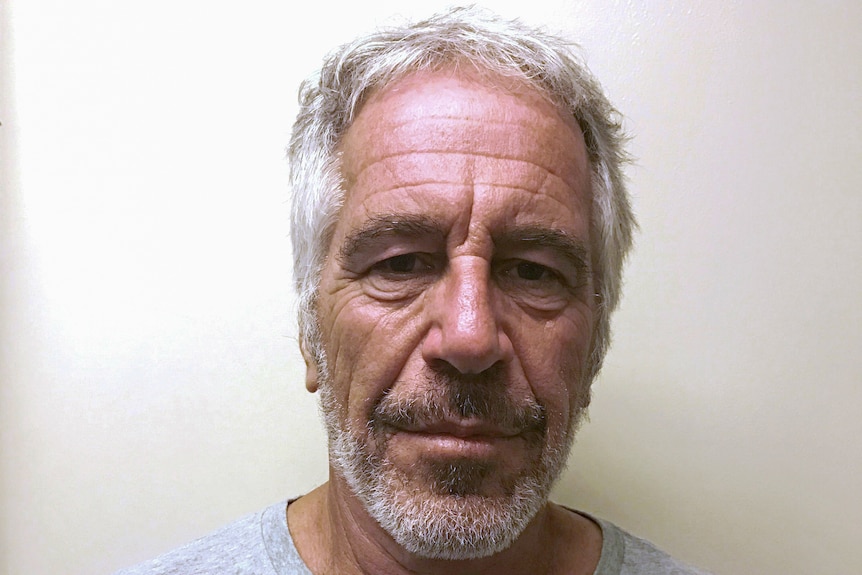 Asked about his association with wealthy financier Jeffrey Epstein, a convicted sex offender who died in prison in 2019, Mr Gates said he regretted it.
"You're going way back in time. But I will say for the, you know, over 100th time, yeah, I shouldn't have had dinners with him," Mr Gates said.
Over the decades Epstein was associated with many rich and famous people including Bill Clinton, Donald Trump and Prince Andrew.
At the time of his death, Epstein was facing sex-trafficking charges.
Following her divorce from Bill Gates, Melinda French-Gates revealed she had told her husband in strong terms that he should not associate with Epstein, whom she described as "evil personified". The couple have continued to work together at the multi-billion-dollar foundation since their separation.
Giving away his money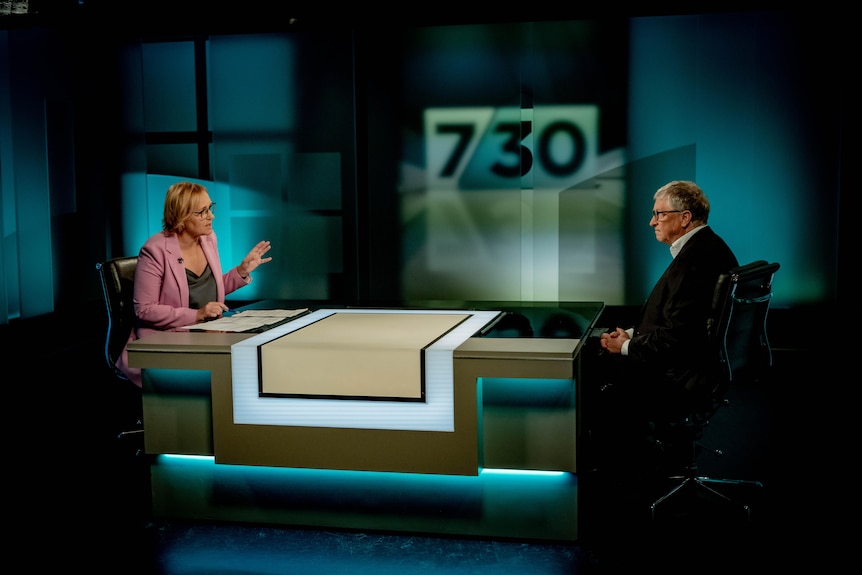 Mr Gates, who according to Forbes is worth $US104.1 billion, pledged last year to give away the vast proportion of his wealth, and he is encouraging other wealthy people to do the same.
Australia lags behind the US in terms of philanthropic giving. Mr Gates told 7.30 why he made his decision and wanted others to follow suit.
"It's not a favour to your children to have all the wealth," he said. "Show up. Every parent has to decide what the appropriate level is. In my case, I can see the impact that philanthropy is having. It's my full-time work.
"The dream is that, over time, the quantity and quality of philanthropy will improve."
Watch 7.30, Mondays to Thursdays 7:30pm on ABC iview and ABC TV
Contact 7.30
Do you know more about this story? Get in touch with 7.30 here.