Trains carrying medical oxygen have been sent to overburdened Indian states as a massive second wave of COVID-19 infections has left crowded hospitals across the country without supplies.
Key points:
New Delhi will receive its first batch of medical oxygen via the Oxygen Express trains
Only a tenth of the Indian population has received a first dose of the vaccine so far
India's official tally is 17.3 million infections and 195,123 deaths, though experts say those numbers are likely underreported
India's new COVID-19 caseload hit a record daily peak for a fifth day on Monday as countries including Britain, Germany and the United States pledged to send urgent medical aid to help tackle the crisis overwhelming its hospitals.
Over the last week, several Indian states have reported running out of medical oxygen, as Indian social media became overrun with citizens' pleas for critical medical supplies.
Patients in hospitals across the national capital and in other states have already died for lack of oxygen as COVID continues to surge.
Trains carrying oxygen tanks from Hapa town in the state of Gujarat arrived in the Kalamboli area of Maharashtra on Sunday, travelling a distance of 860 kilometres to bring 45 metric tonnes of oxygen to the worst-affected state in the country.
Some relief for states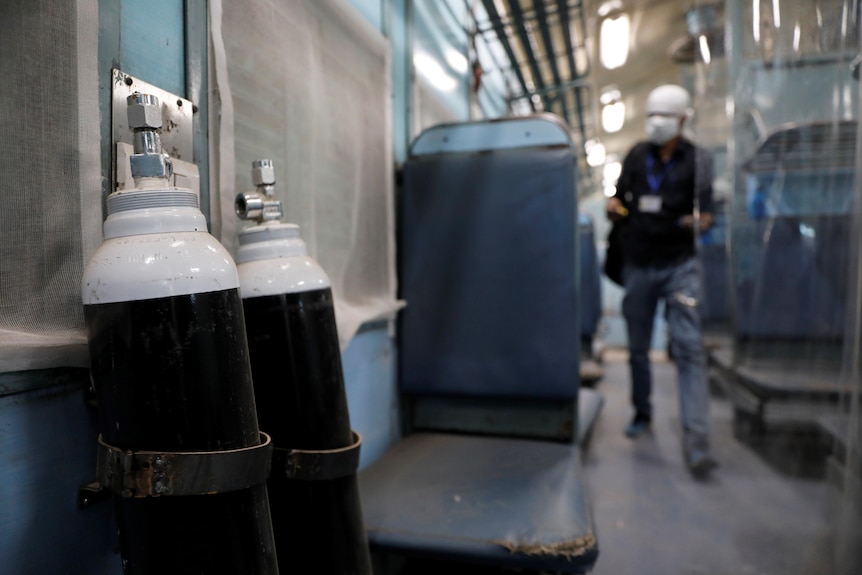 Reuters: Anushree Fadnavis, file photo
Indian Railways said oxygen supplies were transported by train from Mumbai to various locations across the country — carrying a total of nearly 150 tonnes of liquid oxygen.
Indian media reports said the first Oxygen Express bound for New Delhi, where the health system is collapsing under the strain of numbers, is slated to arrive on Monday night (local time), carrying 70 tonnes of liquid medical oxygen from a steel plant.
India has administered nearly 140 million doses to its frontline workers and those aged above 45 years.
About 118 million people have received at least one dose of the vaccine, which is only about a tenth of the 1.35 billion population.
Infections in the last 24 hours rose to 352,991, with overcrowded hospitals in Delhi and elsewhere turning away patients after running out of supplies of medical oxygen and beds.
India, with a population of 1.3 billion, has an official tally of 17.31 million infections and 195,123 deaths, after 2,812 deaths overnight, health ministry data showed, although health experts say infections and deaths are probably far higher.
Reuters/ABC