All but the most highly targeted lockdowns will end and the country will begin to reopen its international borders once 80 per cent of eligible Australians are fully vaccinated against COVID-19, Prime Minister Scott Morrison says.
Key points:
The country remains in the first stage of the government's four-stage plan to return to normal, which seeks to suppress the virus using lockdowns as the primary tool.
Mr Morrison says phase B, the 'transition phase', will begin when the adult population has reached 70 per cent of people fully vaccinated, and a state wanting to move to the next stage would also have reached that target.
At that stage, case numbers would be less important for determining whether that state or territory imposed restrictions, he said.
Instead, it would be based on hospitalisations.
"Lockdowns in phase B are less likely, but they are possible … in targeted cases and more targeted cases, they may be necessary in those circumstances, but they are not something that you would normally expect because of the much higher level of vaccination and protection that exists within the country," Mr Morrison said.
International arrivals will still be restricted in phase B, and caps on arrivals will remain.
But "special rules" for vaccinated people will allow them to live with fewer restrictions.
A working group involving the Northern Territory, Tasmania and Victoria has been tasked with determining what different rules will apply to vaccinated people.
Mr Morrison said he believed the country could reach the 70 per cent target before the end of the year.
International travel begins again at 80 per cent vaccination rate
Once 80 per cent of the eligible population is fully vaccinated, COVID-19 will begin to be treated more like a seasonal flu, Mr Morrison said.
At that point there would be no more lockdowns, except for "highly targeted" lockdowns of vulnerable communities, caps on returning vaccinated travellers would be abolished, and vaccinated people would be allowed to leave the country, he said.
A travel bubble would be extended to other vaccinated countries.
"There will be a gradual reopening of inward and outbound international travel with safe countries, those that have the same sort of vaccination levels that Australia," Mr Morrison said.
States and territories will be able to move into a next stage when the national average for vaccinations, as well as that state or territory's own average, meets the relevant vaccination threshold.
"We have to take each step together, and that starts with walking in the door of that vaccine clinic and seeing that GP, that pharmacist, the state hub, and getting that vaccine," Mr Morrison said. 
"Each step you take towards that is a step that Australia takes to where we all want to get to."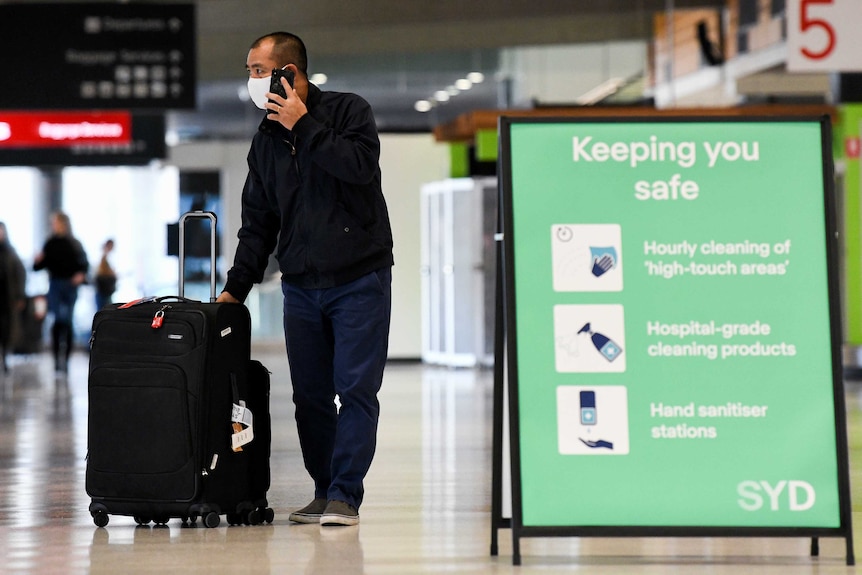 AAP: Bianca De Marchi
The final phase, where life returns to "almost" normal, has not got a vaccination target, as it is still "too hard to say what the situation will be down the track".
But at that stage, international borders would fully reopen, COVID-19 would be managed in a way consistent with treatment of the flu, and only "high-risk" inbound travellers would need to go into quarantine.
The targets had been agreed on in principle by National Cabinet, he said.
Children under 16 are not being counted as part of the total vaccination target that the country needs to reach, but Mr Morrison said children were still included in the government's vaccine rollout.
He also said there would be no set dates at which the country would move into a next phase, and so no 'Freedom Day' of reopening in the country as in the UK.